It's long been an ambition of mine to go to the grave of William Hogarth.
Unquestionably he is one of our greatest artists and political commentators. His works, from The Pilgrim's Progress to his portraiture, offered social analysis that was as cutting as it was accessible and understandable by the British populace.
With a free afternoon I decided to visit his grave and see how similar (or different) the location is today from the print made in the 18th centurym as shown above – and as it turns out, Hogarth is not the only 'creative' buried here.
The History
A place of worship has likely existed here since the 7th Century and its dedication to St. Nicholas is apt as he is the patron saint of sailors and fishermen. Many local inhabitants would have depended on the river as a source of income.
The church that Hogarth would have known is long gone: rebuilt in 1882 to 1884 to the designs of John Loughborough Pearson, the architect behind Truro Cathedral and St John's Upper Norwood. Many of the surviving tombs around the church however are survivors from the Georgian period. Etched with an epitaph written by acting supremo David Garrick, the George Clooney of the 18th Century, Hogarths tomb is one of the biggest and most recognisable, covered in symbols relating to his craft.
Perhaps Hogarth's choice of last resting place informed its popularity as a final resting place for artists, many of them likely having seen the print which initiated my visit in the first place.
Ugo Foscolo
Standing proudly in a cleared area is the tomb of Ugo Foscolo. Here's a man who was no stranger to graveyards; his seminal work, Dei Sepolcri, was written in response to his displeasure of Napoleon's decree that all the dead of Venice were to be buried outside the City walls in uniform graves – he saw the value and importance of art and individualism when it came to remembering the dead.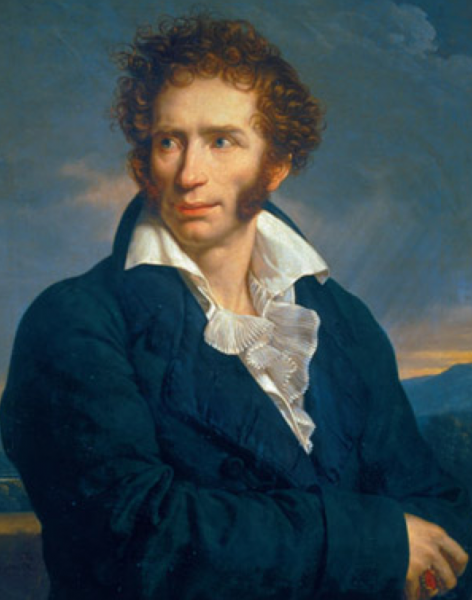 An active writer, his tenure in England was as a result of his refusal to take the oath of allegiance when the Austrians marched into Italy. He wrote for the Edinburgh Review and briefly taught at a girl's school in Stoke Newington, before he died in poverty in nearby Turnham Green in 1827. His exhumation, ahead of reinternment back in his native Italy in 1871 was observed by another Italian national – whose life is hugely important to British cultural history.
His removal was part of a plan to unite a divided Italy – bringing home an Italian hero could do nothing but bolster the cause.
Mary Thornycroft
A much forgotten artist – in an age where men dominated everything, this is sadly unsurprising, although a modern reassessment of her works is bringing her back into focus. Yes, she was the daughter, mother and wife of sculptors but she was also a skilled one in her own right.
Thornycroft would teach Queen Victoria's daughters in sculpture, with Princess Louise going on to sculpt a likeness of her mother which sits in the centre of a fountain outside Kensington Palace. How proud the teacher must have been of her Royal student.
Most of her works are held in the Royal Collection and she had a number of commissions from the Royal household from 1844 – 1877 upon the recommendation of John Gibson, another sculptor (and friend) who was unavailable to complete a work called 'The Four Seasons' – thus enabling her to secure a lucrative gig, which would have been a lifeline for a freelancer.
What's interesting is that Thornycroft's money from Queen Victoria helped support her family, at a time when her husband Thomas' work was not in as much demand. Mary and her husband wer eburied here supposedly because she wated to be buried within earshot of the shipbuilders hammers that rang from the wharves nearby.
James Whistler
Along the northern walk is another artist a long way from his homeland. Painter James Whistler, of Whistler's Mother fame. Whistler was born in Massachusetts in 1834 and moved to London where he exhibited a painting of his mother and niece at the Royal Academy in 1859. By the 1870's he was securing commissions such as contributing to the refurbishment of the home of shipping magnate Frederick Richard Leyland.
Thomas Jekyll, (a leading influence in the aesthetic movement of the 19th century) was originally hired to redecorate Leylands home at 49 Princes Gate, Kensington. However he was taken ill with what appears to be the beginning of serious mental health issues and so Whistler volunteered to finish the job, albeit making a few changes to Jekyll's work along the way.
In a room that contained wood panelling that was part of Catherine of Aragon's dowry from the 16th century: in what would nowadays be described as a conservators worst nightmare, Whistler decided to implement a blue and gold colour scheme that reflected the colours of the portrait that hung on the chimney breast better.
Thomas Jekyll was so distraught at this gear-shift in creative vision that he was discovered in the foetal position in his studio, mid-nervous breakdown, covered in gold leaf. He died three years later at an asylum in Norwich, his mental health never to recover. Whistler and Leyland would never speak again. The room has now been reconstructed at the Freer Gallery of Art in Washington D.C.
Edward Bainbridge Copnall
An art deco masterpiece happens to be nearby. Edward Bainbridge Copnall's best known work adorn the old HQ of RIBA in Portland Place, where his 'Architectural Aspiration' looms over the street – venture up to the top floor (it's free to get in) and there's a picture of Copnall, seemingly in Village People mode, holding a chisel and hammer in a very seductive manner.
He's not buried here, but one of his works sits in this deathly outdoor art gallery. An early piece of his from the 1920's sits atop the grave of Sir Percy Harris, a liberal MP who originally had it on display in his garden at Chiswick Mall. It shows Judgement Day when the dead are resurrected for their final judgement and when he died, the sculpture was repurposed to be his marker.
Those are just three of the creatives buried in this sleepy part of the River Thames: the church has produced a handy guide detailing the lives of others buried elsewhere in the churchyard. It is well worth a visit – its a permanent exhibition worthy of anything at the Royal Academy.