The redemption of Ebenezer Scrooge from visits by the ghosts of Christmas past, present and future is as familiar to us now as the story of Jesus laying in his manger.
It's been interpreted into multiple versions featuring the Muppets, Alastair Sim and Jim Carrey. On my cemetery-bothering adventures I've often found myself standing in the exact same spot that Charles Dickens once stood – for someone who wasn't overy fond of cemeteries, he was in them an awful lot.
My cartoon self recently caught up with Dickens and what better way to celebrate Christmas than to spotlight a couple of graves I've stumbled upon that are connected to the great man!
1. Sir John Everett Millais – St. Paul's Cathedral, EC4M 8AD
Millais is one of the best known Victorian painters and a friend to the hoi polloi of high society. Despite this, his first encounter with Dickens was anything but friendly! Outrage of his early portrait 'Christ in the House of his Parents/Carpenters Shop' was such that  defender of the faith, Queen Victoria, demanded a private audience to inspect it personally.
Dickens was just as ruthless in his assessment – in regards to how the Virgin Mary was portrayed:
'So horrible in her ugliness that she would stand out from the rest of the company as a monster in the lowest gin shop in England'.
Both writer and painter would eventually became friends – they met through Millais' son-in-law and Dickens ended up recommending him to become a member of the Garrick club. After Dickens' death in 1870, Millais was invited to complete a sketch of Dickens on his  deathbed, which later turned into a fully realised pencil sketch. Morbid to our modern sensibilities, Dickens' favourite daughter Kate loved the image.
He's down in the crypt, close to Edwin Landseer and Sir Christopher Wren.
2. Mary Hogarth – Kensal Green Cemetery, NW10 5NU
One grave Dickens frequently went to was that of his sister-in-law, Mary Hogarth, who he idolised. Mary died, aged only 17, in his Doughty Street home: he was never to recover from the grief. Her passing meant he missed the publication dates of Pickwick Papers and Oliver Twist; the only two instances in his life where he missed a deadline.  He composed her epitaph, is said to have based the character of 'Little Nell' on her and wore a ring of hers for the rest of his life.
3. Clarkson Stanfield – St. Mary's Catholic Cemetery, NW10 5NU
Stanfield was a well regarded marine painter whose luscious artwork was often found as backdrop to many pantomimes, of which Dickens occasionally appeared in. Meeting in 1837 when Dickens was 24 and he was 42; the two men held each other in very high regard. Wilkie Collins (another literary friend) with Dickens toyed with the idea of writing a play about the ill-fated Franklin expedition. When Stanfield paid a visit to the family home, Tavistock House, the two men  recreated scenes from the tragedy. Stanfield would go on to do backdrops for the role-play to two men took part in – The Frozen Deep.
Dickens is recorded to have warmly shook the hand of Mark Lemon, founding editor of Punch magazine, (and affectionately known as 'Uncle Porpoise' to Dickens' brood) over his grave. Sadly, the marble cross that marked his resting place has long since crumbled away.
4. Mrs Dickens – Highgate Cemetery, N6 6PJ
Not on any official tour of London's best known cemetery is the grave of Dicken's long-suffering wife. I'm all about empowering women in history and poor Catherine, who was buried here in 1879.
Originally Catherine and Charles were very much in love, marrying in the Cathedral of Chelsea (St. Luke's) in 1836. Dickens very soon after exhibited an unhealthy obsession with her younger sister but, after spending nearly 3000 days pregnant with their ten children, the once svelte and angelic Catherine, by her mid 30's, was now rather (unsurprisingly!) larger, which Dickens would cruelly comment on to his friends.
Perhaps because she now resembled his mother more than the virginal young ladies he seemed to take a shine to – the aforementioned, Mary, for example – he lost interest and separated from her in a way that was deeply humiliating, whilst he could court a relationship with the young actress Nellie Ternan.
Reassuringly, a number of Dickens friends thought his behaviour was appalling – William Makepeace Thackeray his publisher, Mark Lemon all sided with Catherine. His response? To excommunicate them from his life. Dora Dickens, his youngest daughter and the ninth of his ten children, also rests here.
5. William Hone – Abney Park Cemetery, N16 0LH
Burial number 316 in the cemetery, Hone is best known for successfully defeating the British Government in a three day trial, where he fought the charge of blasphemous libel and defended himself in the process. The government, twitchy with events that happened in France in the 1780's, introduce many draconian measures to suppress rebellions and uprisings. Habeas Corpus was suspended – imprisonment with no trial – and Hone was dragged to court for pastiching the Lord's prayer in his criticism of the lawmakers of the country.
Running rings around his prosecutors (bringing the observers to their knees with laughter in the courtroom at the same time) each charge was dropped and a victory was made for freedom of the press. Dickens attended his funeral with George Cruickshank, his illustrator, because he didn't think it was right for such a person to be buried in total obscurity twenty-three years later.
6. Poet's Corner – Westminster Abbey, SW1P 3PA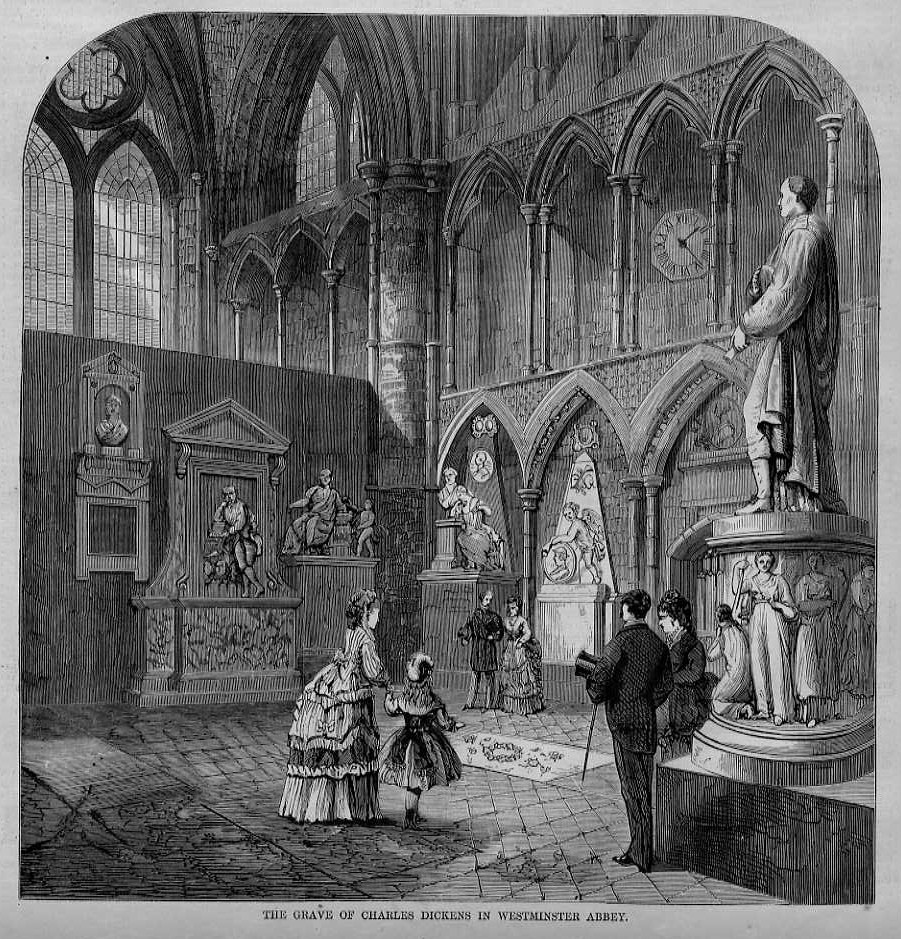 It was largely assumed that Rochester Cathedral would be the author's final resting place, until Westminster Abbey muscled in and offered the best-selling author a plot in Poet's Corner. In the adjacent graves  are Handel, Sheridan and Cumberland, with memorials to Shakespeare, Austen and Bronte placed nearby. In life Dickens would have looked at the south transept, possibly even touching Chaucer's tomb, unaware that one day he'd be resting there himself.
---
Perhaps you know of some other graves Dickens visited? Drop me a message and let me know.
I'd like to wish all of you a Merry Christmas and a Happy New Year!