A marker to the dead can take many forms. A simple slab. A towering obelisk. A niche in a wall.
Or as a ruddy great lion.
Lions in cemeteries – not actual lions, although wouldn't that be something – exist in funerary sculpture and are almost as impressive as seeing the real thing. There are loads of examples of stone lions being used to remember the long dead: so I'm highlighting four examples in a blog I'm splitting into two parts (for now) highlighting these magnificent creatures in the land of the dead.
Background
The use of lion imagery in graves is an old, old practice and one of the earlier forms of using the animal in a memorial form can be seen in Iran, particularly by the Bakhtiari people. The Bakhtiari used the likeness of a lion, called bard-i shir or shir-i sangi – literally translating to 'stone lion' in the Bakhtiari dialect, to honour brave and courageous people of the tribe. Some of the surviving examples which are still to be found in parts of Iran are over four hundred years old. Lions themselves have been extinct in Iran for almost eighty years.
Personal information would be etched into the backs of these stone beasts to forever commemorate the name and achievements of those to which they honoured. Predominantly sculpted in the 19th and early 20th centuries, the practice fell out of favour but now seems to be making a comeback as the Bakhtiari people reconnect with their heritage. It also ties in nicely to the reintroduction of the Asiatic Lion from individuals from Bristol and Dublin.
So their use is hardly new. So what about some examples you can see today?
'Gentleman' John Jackson (1769 – 1845)
Putting aside Landseer's Lions at the base of Nelson's column, it's off to Brompton to see a beast that is of a similar size, who has been resting over his 'master' since the 1840s.
This is the grave of Gentlemen John Jackson, a noted bare-knuckle boxer of the 19th century who gave personal instruction to Lord Byron and opened a Boxing Academy in 1803 in Bond Street and latterly a Pugilistic Club, similar to today's boxing association, helping to keep the sport honest at a time when many of the fights were predetermined. Such was his prowess that George IV hired him to be personal security at his Coronation, where he recruited eighteen other fighters to essentially act as personal security to his majesty. They had a long friendship: George was there at Jackson's first fight at Smitham Bottom in Purley, Surrey in 1788.
After fighting (and beating) the likes of prize Jewish boxer Daniel Mendoza, he retired and ran a popular coaching Inn in Sutton on the London to Brighton Road called 'The Cock Tavern' – another animal that was often found in a fighting ring and his death at 4 Lower Grosvenor St. West, Mayfair in 1845 saw an oupuring of grief that culminated in a public subscription being raised to build this huge monument to his memory. A lion for a lionhearted man, who never quarrelled with any of his opponents – save Mendoza.
Although, look, dear reader: the monument is not how the the eyes of Charles Dickens would have observed it. Originally, the lion was guarded by statues of two athletes (long since removed) and in the place of the figure flanking the path, a block was added (and not quite to the proprotions of the monument, annoyingly) denoting Jackson's niece and surrogate daughter Elizabeth who joined him in the grave in 1882. Whilst browsing Google Books I found a drawing of the original form, in a book by sculptor Arthur Hakewell. Compare and contrast.
Tom Cribb (1781 – 1848)
Supposedly he lends his name to Cribb's Causeway in Bristol, but he also lends his name to a pub next to Woodlands, one of the finest South Indian restaurants in London on Panton Street, Piccadilly. He lived there for a time when the pub was called the Union Arms – like Jackson, he went into the pub trade after he retired.
Cribb was another lion of the ring and he too rests beneath a stone version in St. Mary Magdelene Church, Woolwich. Both memorials were by the same sculptor – Timothy Butler, whose best known work are the lamps and lions of the Thames Embankment (one detects a theme, here). 'Tim' as he insisted on being called, warned Bell's Life in London & Sporting Chronicle in 1851 that the tomb to Cribbs, raised by public subscription like our man Jackson's was, as a token of the esteem he was held in – was not as grand as his previous work and that it had gone over budget – to which people gladly paid the outstanding amount, to ensure the memorial was finished.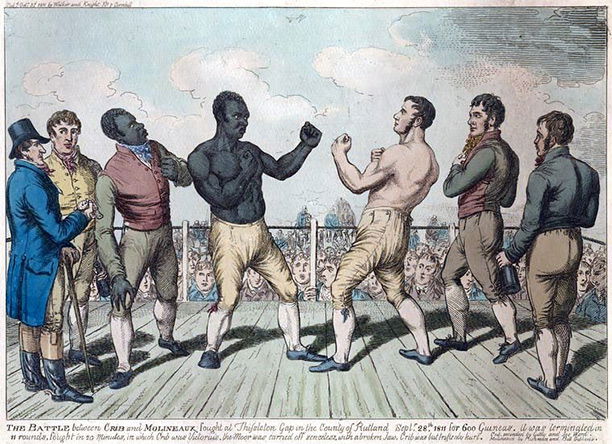 Cribb was twelve years younger than Jackson and was born in 1781. He had fought and defeated former American slave Tom Molineaux after thirty five rounds in December 1810, thus becoming world champion. Although smaller, the lion Butler carved is more aspirational and upbeat: it looks at the sky as its paw rests on an urn that furnished his admirers with his name and epitaph. It's a pity the monument is now surrounded by air conditioning units.
Whether Butler was a fan of boxing that gave him the chance to do both of their monuments, I have no idea but a lion was clearly the only animal worthy to honour these two titans of the boxing ring.